FAQ's and Next Steps
February 2, 2012, 12:59 pm
Filed under:
CMS
Our challenge:
The current USF website is made up of hundreds of disparate sites that seem to have little relation to one another. Many of these sites are filled with out-of-date information, broken links and inappropriate content. Unfortunately, even relevant content is often so poorly organized that people who visit the website find it difficult to get the information they need.
So how do we fix it?
The first step is recognizing that the USF website is a marketing tool—in fact, it's USF's number one marketing tool. We all need to remember that the purpose of the USF website is market the university to our primary audience: prospective students.
We know that prospective students are looking for very specific information when they visit university websites. Primarily, they are looking for information about academic programs, admissions requirements, and cost to attend / financial aid.
Prospective students are also interested in knowing what kinds of jobs they will be qualified for after they complete a specific degree program, as well as information about campus life, housing, dining, parking, internship opportunities, student employment and other resources.
Finally, prospective students enjoy viewing videos and photos of the campus, learning about student activities and events, and reading news stories and profiles about faculty, current students and alumni who have found success at USF.
Are there other audiences besides prospective students?
Of course. We also need to market the university to parents, donors, alumni, job seekers, legislators, vendors, patients, event attendees and other individuals who interact with and support the university.
Note that all of these secondary audiences are EXTERNAL, as opposed to our internal audiences, which include current students and university employees. While the USF website will certainly include content relevant to current students and employees, such as maps and dining venue hours, INTERNAL information for these audiences should not be posted on the USF website.
If I can't put internal information for current students and university employees on the USF website, then where CAN I post it?
With few exceptions, nearly all content for current students and university employees belongs in the MyUSF portal. Within the portal, students can communicate with faculty, access / attend online classes, and conduct a wide variety of university business, such as checking the status of their financial aid awards and monitoring their progress to graduation.
Likewise, employees should conduct all university business within the portal, including accessing enterprise business systems such as GEMS and FAST, searching for Human Resources forms, monitoring leave balances and much more.
Are there other types of content that DO NOT belong on the USF website?
Yes. Instructional content—course-related content produced by faculty for current students—does not belong on the USF website. Information Technology will provide space on separate servers for this type of content.
In addition, applications—also known as online forms and the databases that support them—do not belong on the USF website. Again, Information Technology will provide an appropriate solution for this content, to be determined on a case-by-case basis.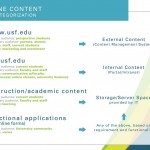 (click to enlarge)
I understand that I need to edit my content. How do I begin?
The first step is to carefully review your current web content. There are two goals here:
 To eliminate all out-of-date, inaccurate content.
To relocate any content that is not appropriate for the website, such as content for internal audiences, instructional content and applications. (See above.)
The next step is to think about what you are trying to achieve. Do you want to motivate your audience to apply for a job, purchase a ticket, or pay a bill? Then you need to develop content that motivates your audience to take those specific actions.
This means that every word, link, photo, video and graphic element on every web page should serve a very specific purpose—to motivate your target audience to do what you want them to do.
It also means that any extraneous information needs to be edited out.
But isn't it helpful to include tons and tons of additional information?
No. One of the most significant problems with the current USF website is that it is filled with irrelevant content. When you feature multiple navigations, long lists of "related links" and broad paragraphs of text, you make it difficult for your audience to find the information they need to take action.
Redundancy is another significant problem on the current USF website. When you post the same set of links in four different places on one web page, or post the same content over and over again on multiple pages, you confuse your audience.
Likewise, when you recreate content that already lives somewhere else on the USF website—say, parking information—you not only clutter up your web page, but you also run the risk of failing to note when the original content changes, leaving you with a web page filled with out-of-date, inaccurate information.
What do I do after I edit my content down to the essentials?
Now it's time to get organized. Stay tuned to our next blog post for more information.
What's next?
Information Technology and University Communications and Marketing are currently creating a production schedule that details the order in which university colleges and divisions will move into the new content management system.
Several units have already volunteered to go first, among them the College of Education and Human Resources.
 If you would like to add your unit to the queue, or if you have additional questions about this initiative, contact Kathleen Long at kathleenlong@usf.edu, or Stephanie Harff at sharff@usf.edu
UCM and IT have been presenting the Web Re-branding/CMS Communications to departments and colleges across campus:
Presented to:
Provost's Retreat
Council of Deans
ACE Council
A&P Council
CTIR
ITMC
STAC
Professional Communicators Group
IT Standards Board
Met with:
 Academic
College of Arts and Sciences
College of Marine Science
College of Education
College of the Arts
Patel Center for Global Sustainability
Air Force ROTC
Undergraduate Studies
Office of Student Success
Physical Education Department
 Non-academic:
Administrative Services
HR
Student Affairs
USF System
IT
UCM
Media Innovation Team
Provost's Office
SDS
 Areas using the Interim Solution:
Wellness Education
Campus Recreation
Undergraduate Admissions
Computer Store
Ethics Committee
ATLE
University College and College of Ed
Housing
Business and Finance
iWINLAB – Engineering
Budget and Policy Analysis
Department of Child and Family Studies
Admissions
Advisory Committee
College of Business
College of Education
College of Engineering
Library
Office of Research and Innovation
College of Arts and Sciences
Office of Undergraduate Admissions
College of the Arts
Administrative Services/HR
Provost's Office